How is everyone's pre-Halloween weekend going? Have you got your costumes ready? Your candy bought? Your homes/apartments/dorm rooms/everywhere else decorated? Did you go to any parties last night? I did! For the first time in years I got to do all of those things. When I was at school I never got to do everything I wanted for my favorite season. This year I went as Cheryl Blossom (so fun) and a friend from work threw a party so some of us were over there. It was a great night. Halloween is a time of year I adore, but didn't get a lot of time to really immerse myself in the past few years.
NOT THIS YEAR. Yep, my house is decorated, candy is bought for trick-or-treaters, and I have two (two!) costumes. One was for the party last night, the other is for the trick-or-treaters on Wednesday. And, on top of all of that, I have time this year to fall into some truly Halloween/creepy/ghoulish/I could keep going but I'll stop for your sake reads. What are some good books to read in October, you ask? Well that's a very good question! One I actually don't have the answer to.
Confession time: I can't handle horror. Like, I'm genuinely awful when it comes to anything creepy and scary and terrifying. I was scared of Hocus Pocus as a kid, okay? That's how bad it is. So, I've enlisted the help of a good friend who does read a lot of good Halloween-kinda books. I've got a few recommendations of my own, but most of this list comes directly from my friend Leslie.
"Enough already," you're saying. "Give us the spooky reads already! Let us see the list!" Well, I'm getting to it. Right now. Without further ado here are some spooky Halloween reads for you!
The Coldest Girl in Coldtown by Holly Black Vampires and autumn vibes and, well, Holly Black. Need I say more? I won't but this description will.
Anna Dressed in Blood by Kendare Blake Haunted houses and ghosts who spare only one person's life? Uh yes please.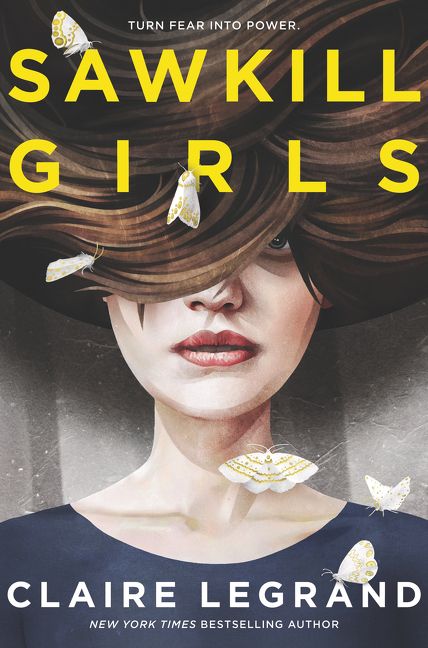 Sawkill Girls by Claire Legrand Murders on an island that no one talks about but everyone knows are happening. Yep. You need this one.
The Cavendish Home for Boys and Girls by Claire Legrand According to Leslie this book gave her nightmares. And this is someone who regularly reads horror. So naturally you need to read it.
Wicked Deep by Shea Ernshaw Each year the spirits of centuries-old murdered sisters take over the bodies of three girls in order to drown boys in the lake. *insert shock-face emoji here*
Hocus Pocus & the All New Sequel by A.W. Jantha Okay so I've already said I couldn't handle this as a kid. As an adult? Leslie and I both recommend this one wholeheartedly.
The Witch of Willow Hall by Hester Fox I have three words for you: Salem Witch Trials. Do you really need to hear anything else? Yes? Okay here. Ready to read?
The Spellbook of Katrina Van Tassel by Alyssa Palombo The legend of Sleepy Hollow as told by Katrina Van Tassel. Just the dose of creepy you need for the coming holiday, yes?
Special thanks again to Leslie for her contributions to this list. Okay, for basically writing the list. You all should follow her on twitter and instagram. She's acourt_ofbooks on both and I've linked her accounts in the previous sentence. I hope you see a book here you want to read this Wednesday. Enjoy the spooky, even if you don't read anything. Maybe you have a life and will be out having fun. No matter what, please be safe. Have fun but be careful and if you're drinking I implore you to use Uber or Lyft. Not trying to be a buzzkill just trying to make sure everyone stays safe.
Okay, now that I'm done mom-ing everyone I'm going to go finish a book. Review for that one coming soon. Enjoy your holiday if you don't hear from me before then. Bye!
Kailey